->Italiano

"In my numberless workshop all over the world I have never had met a young musician as Luigi, with great talent and musical maturity. When I play with him looks like I'm playing with my old colleagues"
- Barry Harris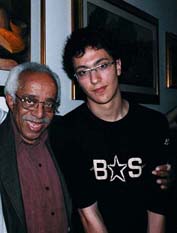 L' Oscar Zenari Trio already play with such artist as Gianni Basso, Carlo Atti, Francesco Bearzatti, Nicola Stilo, Steve Gut, Kurt Weiss, Charlie Mariano, Robert Bonisolo, Sherman Irby, Melba Joyce, Tom Kirkpartrick, Ed Cherry , Chuck McPherson. Now present the young talent alto player Luigi Grasso.
At the age of 17th Luigi won the italian competition "Massimo Urbani", he attend to many television shows as: Bravo Bravissimo, Joop Van Den Ende in Amsterdam, Amnesty International con Lucio Dalla, Godt MusikkÓr 2000 in Trondheim. He plays in many international festivals, his more prestigious collaboration is with Barry Harris. With this trio he played a lot in Italy, Switzerland and at the Jazz Festival of Novi Sad and Berlin. His playing is inspire by the music of Lester Young and Charlie Parker, but with the freshness and verve typical of his young age.


- Zenari Trio featuring Luigi Grasso
Luigi Grasso - alto sax
Pasquale Grasso - chitarra
Max Chiarella - batteria
Oscar Zenari - piano
Luca Pisani - contrabbasso
Ascolta Demo